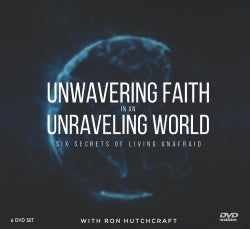 From the 2014 President's Retreat
Bible Book: Exodus
In unsettling times, with so much out of control, we find a powerful Biblical picture of unwavering faith in unraveling times.  The Book of Exodus.In "Unwavering Faith in an Unraveling World," Ron Hutchcraft reveals the secrets of living unafraid for the unbeliever.  Ron will walk with you through this picture book to see if you're in it.
1. The Trigger for Something Bigger
2.  Only One Throne
3. The Epicenter of Eternity
4. Your Burning Bush
5. A Choice, Not an Echo
6. Front Row Seats
Bonus CD - Contains printable PDF files of the "Unwavering Faith" notebook, with and without answers.