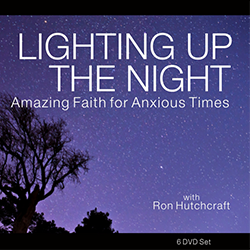 FROM THE 2012 PRESIDENT'S RETREAT
Bible Book: Philippians
Have you been watching the news?
You and I are living in decisive times! So much is happening! Could Jesus be coming soon?
Join Ron Hutchcraft for a powerful journey through 6 DVD sessions, and discover "Amazing Faith for Anxious Times." You will be inspired and challenged, with practical insights for making a greater difference with the rest of your life!
1. Jailhouse Rock
 2. Messiah Wannabes
 3. Human Beachballs
 4. Star Power
 5. Clenched Hands
 6. Gold Medal Passion
Data CD - Contains printable PDF files of: "Lighting Up the Night" notebook.