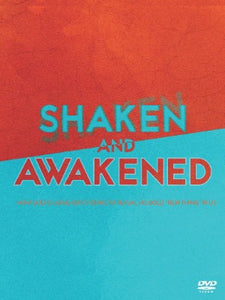 "Shaken And Awakened"
How God Is Using Our Storms To Reveal His Bold "New Thing" In Us
"When the foundations are being destroyed, what can the righteous do?" Psalm 11:3 NIV
David penned these words many years ago.  And yet they speak with such relevance for our lives today. Everywhere we turn, things that were once secure, are shaking, and falling apart - both in the world, and often in our personal lives.
When the foundations are shaking, how should we respond?  Not just to survive, but thrive in this moment?
Father and sons, Ron, Doug, and Brad Hutchcraft, tackle these questions and much more in the six-part message series, "Shaken and Awakened." Discover practical ways you can make a difference for Jesus - in your life, family, community, and world. 
David concludes Psalm 11: "For the Lord is righteous, He loves justice; the upright will see His face."  Join the Hutchcrafts for this exciting journey, and your life will never be the same.
DISC 1 "New Day Dawning" - Ron Hutchcraft
DISC 2 "The Listening Life" - Brad Hutchcraft
DISC 3 "The Rugged Journey to A Beautiful Place" - Ron Hutchcraft
DISC 4 "Fourth Quarter Fire" - Ron Hutchcraft
DISC 5 "Audacious Faith" - Doug Hutchcraft
DISC 6 "Living In Graceland" - Ron Hutchcraft
DATA DISC PDF files of notes with blanks and answers