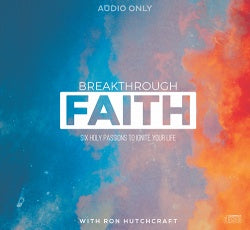 From the 2015 President's Retreat 
Bible Book: Gospel of John
The ultimate big picture - the breathtaking agenda of God for this planet...for creation...for our lives.  It is the rocket fuel to launch a life into the highest orbit there is.The Gospel of John is unlike any other Gospel.  Any other book. John is an author like no other author in the Bible.
With Ron, let's follow this roadmap to the glory road.
1. Fireworks In Reverse
2. Miracle Maker
3. Eternity Encounters
4. Struggle or Snuggle?
5. The Upside Down Kingdom
6. Dark Stretches on the Glory Road
Bonus CD - Contains printable PDF files of the "Breakthrough Faith" notebook, with and without answers.