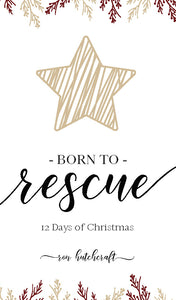 Born to Rescue is an excellent tool for every Christian to use in sharing Jesus at Christmas...and all year. It is beautifully designed, only 28 pages, clearly written, and easy to give to friends. There is no better gift to share than Jesus. Great for inserting in your Christmas cards!
"Ron Hutchcraft has created a tremendous Christmas outreach tool, and makes a great gift. For anyone who is passionate about impacting lives, this little booklet is a great way to communicate how to make 'Christ the Savior' become 'Christ your Savior.'"
- Shannon O'Dell, Senior Pastor; Brand New Church (Bergman, Arkansas)
For quantities totaling 5,000 or more booklets please contact us directly at either 870-741-3300 or toll free at 1-877-741-1200.