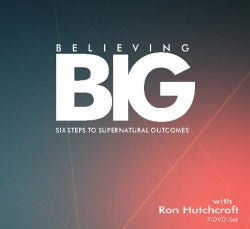 From the 2013 President's Retreat
Bible Book: Ezra
In "Believing Big," Ron Hutchcraft uncovers profound insights and relevant truths for the restless believer. The little-traveled book of Ezra is a mirror of our times - and a heavy dose of hope! Ron helps you take a fresh look at your priorities, and provides secrets for a life with bigger impact. Beware! This series will challenge, inspire, and motivate. Recorded live at the President's Retreat, join Ron Hutchcraft for a journey into "Believing Big"!
1. The Game-Changer
2. First, the Sonrise
3. Deadly Currents
4. "Selfies" and Soldiers
5.  Destined to Lose
6.  Next Gen Insurance
Data CD - Contains printable PDF files of: "Believing Big" notebook, "Rescue" booklet, and response form.