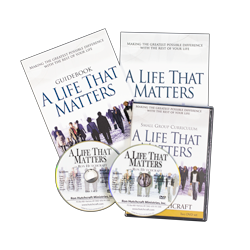 Take the ALTM challenge – by yourself, or with your family!
When used as a personal study, you will grow and develop as an ambassador for Christ. Use the book, guidebook, and DVDs to dig deeper.
Also, ALTM can be used as a family devotional study – recommended ages 10 and up. Make your family a "life-saving family!" (You may wish to order additional ALTM books and Guidebooks).
A Life That Matters Individual Curriculum includes:
1 - A Life That Matters book  
1 - A Life That Matters guidebook  
1 - Yours For Life tract
1 - Yours For Life card
1 - DVD Video Curriculum
What People are Saying...
"This study gave me the confidence and the boldness I needed to speak to people about Jesus. Ron introduced me to this idea of being a rescuer. It's simple to understand, It's straight forward, and anybody can do it."
Jolie
"As a pastor, I find A Life That Matters is a great tool in equipping people to be able to share Christ in an effective way in our culture."
Paul
"This study is a great reminder that you don't have to go halfway around the world to find someone that needs Jesus. This has really opened my eyes and changed the way I look at my day to see opportunities I have to touch other people for Jesus."
Lisa
"Ron's approach is so clear, concise and down-to-earth and very workable for a lay person to share with a neighbor or a friend."
John
"As a coordinator of small groups at our church, I found A Life That Matters easy to understand, challenging and personal. It has great use of Scripture as its foundation, which is something I always look for."
Hilda
"Ron Hutchcraft has really encouraged me to live a life that matters, and that's much more than a book title or a cliché. It all comes down to just one thing and that is taking people to heaven with you."
Jon
Information for Small Group Leaders
Below is a list of the parts of each session, followed by a brief explanation.
Objective - Each session has a specific objective that is connected to the overall objective of the "A Life That Matters" Small Group Video Curriculum—to prepare believers in Jesus Christ to make the greatest possible difference with the rest of their lives.
Read - Encourage your group to read the chapter(s) of "A Life That Matters" Book for each session beforehand to get the most benefit out of Ron's presentation and the discussion.
Warm-up - These questions/activities are somewhat optional, but are designed to break the ice, bring the group together, and prepare for the session discussion.
Focus Questions - These questions lay a foundation for the video presentation.
Video Segment #1 - Play the DVD to view the introductory and first segment for the session.
Video Notes - Encourage group members to jot down notes or ideas during Ron's short presentations.
See It! (Observation) - These questions are designed to review and clarify the content of what Ron said in the first video segment.
Think About It! (Reflection) - These questions allow participants to personalize the objective in the session.
Do It! (Application) - These questions encourage participants to implement and practice the contents of the session.
Video Segment #2 - Play the DVD to view the second and shorter segment to conclude the session.
Assignment Review - Because many of Ron's closing remarks include important insights, these questions seek to drive these insights home and clarify the assignment for the week.
Session Notes - The key Scriptures and other outside references from each session are listed in the "A Life That Matters" Guidebook.