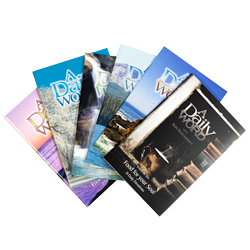 This is a six volume set (Volume 1-6) of Ron's best "A Word With You" messages in print.
Get a daily spiritual "jump-start" with Ron Hutchcraft as you discover practical help for everyday life. A Daily Word is insightful and relevant food for your soul based on Ron's popular radio broadcast, "A Word With You."
Each volume has one devotional message for each day of the month. You can buy each volume separately, but you can get them all in one package here!