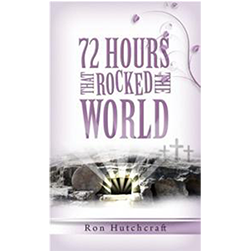 A great Resurrection Day rescue tool to point people to Jesus!
For many, Easter is a time to gather with family, hunt for eggs (hoping someone has kept track of where all the eggs have been hidden) and enjoy large family gatherings around the dinner table or barbecue.
Easter Sunday may be the last time they will pass through the doors of a church until Christmas. How can Easter this year be something different for them? Ron's booklet, 72 Hours that Rocked the World, could be that difference. This booklet bridges the gap of family and cultural traditions with the reality of Easter - Jesus died and three days later proved to the world that only He has the power to conquer death.
For believers, the impact of the Resurrection of Christ is so profound that it's all that can be done to keep from sharing its importance with friends and family alike. 72 Hours that Rocked the World provides, with everyday language, an easy way to share with your family, friends and neighbors about this amazing life-changing experience.
For quantities totaling 5,000 or more booklets please contact us directly at either 870-741-3300 or toll free at 1-877-741-1200.