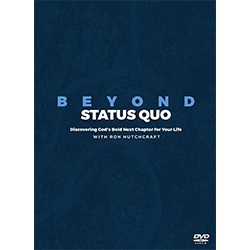 From the 2019 President's Retreat
Bible Book:  Acts
Many believers are asking the question, "Is this all there is to the Christian life?"
There is a consistent whisper among God's people: "This is all good, but it's not enough. There's got to be more."
In this powerful 6-part series, "Beyond Status Quo," veteran Christian communicator Ron Hutchcraft uncovers the transforming secrets found in the book of Acts - easily one of the most explosive books of the Bible.
Ron explains how a status quo American Christian faith is woefully inadequate for the times we are living in. Authentic believers are needed now more than ever. Join Ron for an exciting journey, as he uncovers the life-transforming secrets for your bold next chapter. Status quo Christianity is not enough - for you, or for a lost world that desperately needs our Jesus.
Disc 1 - Our Box-Busting God

Disc 2 - Hearts on Fire
Disc 3 - Sailboats and Motorboats
Disc 4 - The Mighty Engine of God
Disc 5 - Like Stars in the Dark
Disc 6 - Safe Harbor in Stormy Times
Disc 7 - Session Notes PDF